Congratulations to 2010 World MMA Award Winners:
Bad Boy fighter Mauricio 'Shogun' Rua won Knock Out of the Year (over Lyoto Machida UFC 113)
Cris Cyborg Santos won Female Fighter of the Year
Bad Boy won Best Technical Clothing Brand nomination!
Fabricio Werdum won Submission of the Year (over Fedor Emelianenko).
For the full list of winners go here>>>
By the way, you can watch the ceremony yourself - Versus is going to broadcast it next Thursday, December 9th. Check versus.com for your local schedule.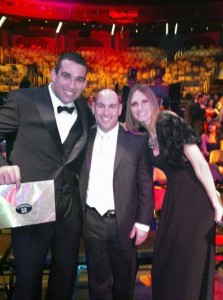 Picture: Fabrcio Werdum and his wife with Paul Reavlin (middle).