Jonathan Wickham from YouthMMAGear.com shares his thoughts about kids and Mixed Martial Arts.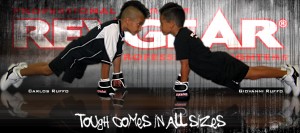 There are many reasons why parents put their children in a Kids MMA program. Some children may show a direct desire to learn mixed martial arts or parents may look to get their child involved because they think it would be a good experience. MMA (mixed martial arts) is a great way to get kids involved in a physical activity while teaching them many important lessons such as self discipline, self esteem, and resilience; just to name a few.
Self Esteem Through Youth MMA, children can learn many important life lessons that will help mold them into meaningful members of society. One of the biggest lessons that any child will learn through mixed martial arts is self esteem. In today's society there are a lot of factors which bring about low self esteem in children. Martial arts will show your child that they can master something if they put their mind to it. This helps to build their confidence and give them an overall positive outlook on their accomplishments.
Honor Honor is another life lesson that every child should learn. Winning honorably is just as important as losing honorably. Your child will learn honor through MMA from all the traditional aspects of martial arts training. They will learn to bow to their opponent as a sign of respect before they spar as well as bowing graciously afterwards. This will teach your child that everyone is equal and deserves the same respect as anyone else. It also reminds them that this is a sport and not a violent game.
Self Discipline Everyone has to learn self discipline at some point in their lives. The earlier your child learns to be self disciplined and have control over their actions, the better. Through Youth MMA your child will learn that there is a time to be aggressive and there is a time to calm down and relax. This hones patience which is a difficult area for most children.
Resilience Another more common life lesson that children will learn from martial arts is resilience. Children will learn how to stand up for themselves and their beliefs in life. They will also learn how to take the junk that people and life may throw at them and make it through it. Especially in today's society, it is important for children to learn how to take criticism, rejection, and hatred and still be able to get through each day.
Fun Having fun and being part of a group is one of the best lessons a child can learn from sports. Not only will martial arts teach your child to have fun, but it demonstrates that they can enjoy activities outside of their normal daily routine. Too often we grow into adults who make little room for fun. Showing your kids that it is important to keep fun activities in their life will help them grow into more balanced adults.
Youth MMA is a wonderful sport which will help your child to make new friends and learn important life lessons. Your child will have a great time and learn invaluable life skills. They may even learn a thing or two about themselves along the way. If you are considering extracurricular activities for your child, step aside from the traditional sports and give it a try.
More information MMA for Kids, Youth Shorts, Youth Gear;