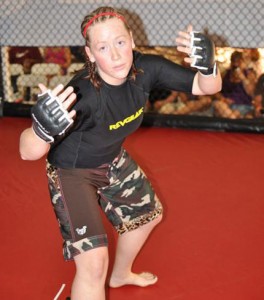 Katie "Deuce Deuce" Dihle lives in Alpena, Michigan and works for Alpena Regional Medical Center. But Katie's true passion is Martial Arts. She has been in Martial Arts for only a short year an a half. She says she's fortunate enough to study kickboxing, Muay Thai, Judo and other forms. MMA has become not only a hobby for Katie – it became her lifestyle. Katie says: "Training for an upcoming event is like a force that consumes me. I eat it, breath it, when I sleep I even dream about it. It's constantly on my mind". Katie was very dedicated to her training for her last fight,
Northern Bad Boys 4
. Additionally to her conditioning and strength training, Katie was training with her Judo or Muay Tai trainers three times a week. And then on weekends she would do her rounds. Every round she'd get a fresh opponent who would break her down, then pick her up and do it all over again…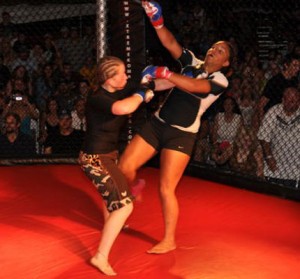 Her opponent for the Northern Bad Boys 4 fight was Anjel Howard. The fight lasted all 3 rounds and Katie won by unanimous decision. Katie says:
"At times when I think about returning to the cage it does bring on certain amounts of fear, but this fear is overcome by confidence… I'm not only a fighter, like Revgear isn't just a sponsor, and MMA isn't just any sport for me. It's who we are, where we are, and who we want to be. That's what I try to measure up to EVERYDAY. That's how I win, whether in the cage or carrying out my life day by day".