Posted by Revgear on Mar 4th 2016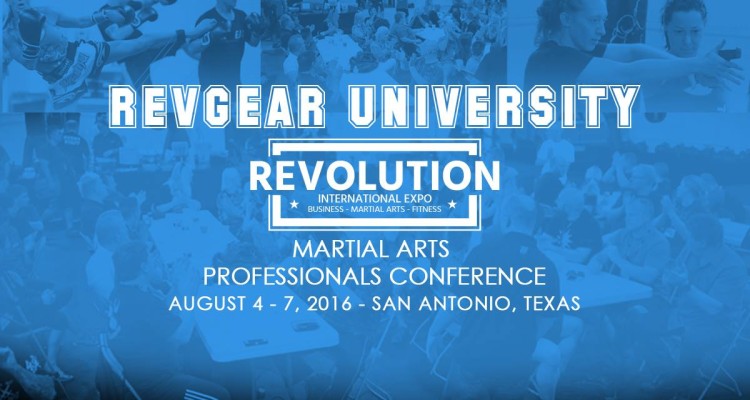 Leading International Martial Arts Professionals Conference scheduled for August 4th - 7th, 2016 in San Antonio, Texas.
Van Nuys, CA - Revgear University's Revolution, an International Martial Arts Professionals Conference, will return to San Antonio for the third time. Revolution International Martial Arts Professionals Conference is scheduled for August 4th - 7th, 2016 at the one-of-a-kind 60,000 square foot STW Krav Maga training center. Revgear University martial arts conference features exclusive instructors with curriculum from world renowned leaders in their fields including experts in business, marketing, sales and social media masters. Names like Dave Kovar, Bill Clark, Greg Silva, Mark DellaGrotte, Erik Paulson, and more. Attendees include fitness and martial arts gym owners, martial arts instructors, program directors, and students from around the world. Each year Revgear University is the place where these attendees get educated, certified, inspired, and recharged.
Revgear University's Revolution is the only martial arts show to feature hands-on physical training seminars, certifications, and business curriculums taught by some of the most successful people in the martial arts industry today. The 2016 event begins on Thursday August 4th with the Kali4Kids certification and continuing education taught by Apolo Ladra and Chris Nott as well as Kettlebell Certification with "American Master of The Russian Kettlebell" Steve Maxwell and StrikeFit Certification with John Whitman. Friday August 5th will feature seminars with elite celebrity trainer and Hollywood star Mark DellaGrotte along with the first American to win the World Light-Heavyweight Shooto Title in Japan, Erik Paulson. Friday evening will feature an attendee reception with featured guest speakers.
The Revolution weekend begins on Saturday August 6th and continues into Sunday August 7th with a full-schedule to be published at a later date featuring presenters including 8th Degree BJJ Blackbelt Pedro Sauer, Martial Arts Business Master and Black Belt Dave Kovar, Chief Master Bill Clark, Martial Arts Business Mentor Paul Garcia, STW's Pete Hardy, Social Media Expert Jordan McCreery, United Professional's Greg Silva, Best-Selling Author Erik Charles, Founder of Revgear Paul Reavlin, Fit to Fight's Ryan Hoover, UFC Veteran Matt Brown, and more.
Revgear University began as a vision of Paul Reavlin. Mr. Reavlin has spent most of his life in the Martial Arts community and is a Krav Maga Black Belt. He is also the founder of Revgear. Revgear is a leading manufacturer of martial arts supplies and apparel since 1996. "As a martial artist myself I wanted to put together an event that was interactive and training based accompanied with business tools that countless school owners had told me they were looking for. At Revgear University you don't just listen to presenters speak about techniques in a conference room, you train and sweat along with them. It is a chance for owners and instructors to become students again and learn from the best." Reavlin continued, "The feedback we have gotten from past attendees has truly been life-changing for their businesses and their families. When I started Revgear University I not only wanted it to be something different, but I wanted it to be something that could directly benefit attendees with their schools and we can confidently say we are doing that with each and every event we hold."
Revgear University Revolution International Martial Arts Professionals Conference will provide attendees with drills and skills they are able to immediately implement upon return to their schools and academies. Physical training combined with the new business tactics, social media training, and strategies learned will immediately increase membership and improve member retention.
Learn More & Register Now for Revgear University Revolution at http://www.RevgearUniversity.com.
Connect with us on social media:
Facebook: http://www.facebook.com/RevgearUniversity Instagram: http://www.instagram.com/RevgearUniversity