Posted by Revgear on Jun 8th 2018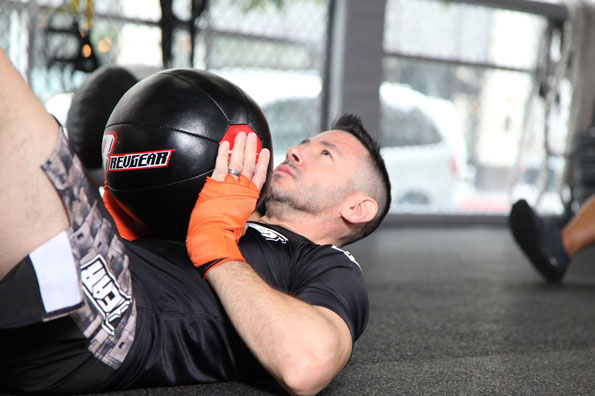 Strength and conditioning takes the average workout and kicks it up a few notches. Using strength and conditioning equipment helps you to hone in on specific parts of your body so you can fine-tune your body for athletic endeavors. Each piece of strength and conditioning gear you use should have a specific purpose that helps you to develop as an athlete. Read on to discover some of the most beneficial types of S&C gear so you can reach your full potential in the gym.
1. Medicine Ball

Medicine balls are classic exercise tools that have been around since the ancient days when Greek bodybuilders would use weighted balls in their exercise routines. Today, it remains one of the most versatile types of strength and conditioning equipment, despite its simplicity. The ball can be thrown, lifted, used as a base, and simply held during traditional exercises. You'll never run out of uses for medicine balls in your home gym or dojo, making it a must-own piece of strength and conditioning gear.
2. Kettlebells

Kettlebells have a unique shape that makes them perfect for S&C. The shape opens up new possibilities that traditional weights don't allow, such as the ability to perform exercises that involve pushing, pulling, and swinging.
Kettlebell workouts offer tremendous benefits, including improved balance, stability, and power, as well as a boosted metabolism. If you're on the hunt for strength and conditioning equipment beyond the typical weights, give kettlebells a try.
3. Jump Rope

Jump ropes are perfect for athletes who want strength and conditioning gear that travels. Don't be fooled by their simplicity though –– jump ropes offer incredible potential for aerobic conditioning. A favorite workout for professional boxers and combat sport athletes, jump rope exercises help you build stamina, improve your footwork, and increase your full-body muscular endurance. They're also perfect for when you want to take a break from lifting while still maintaining focus on S&C.
4. Gymnastics Rings

If you're serious about using the most effective strength and conditioning equipment, you definitely want to include gymnastics rings in your repertoire. While rings are often associated with gymnastics competitions and CrossFit, they're surprisingly versatile for S&C.
If you've ever seen a professional gymnast, they have some of the most toned bodies in the world, and that's no accident. Your first few times on the rings are probably going to be tough, but the long-term results are well worth the effort.
* * *
Get the Gear You Need

Staying in shape is about more than building muscle and defining your abs. Strength and conditioning training improves your overall wellness, from your cardiovascular health to your ability to hang in the ring for another round. But to truly practice successful S&C training –– and to do so safely and effectively –– make sure you have the best strength and conditioning equipment.