Posted by Revgear on Feb 14th 2014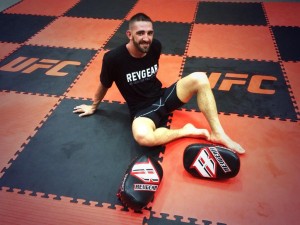 What was your first experience with Martial Arts?
My first time training was back in 2008, I went into Reality Self Defense which is now Lauzon MMA and I started out with a beginner grappling class. I liked learning all the technique but what I think really got me hooked on it was when we starting grappling for submission I was getting tapped left and right. I wasn't going out like that so I came back every class and worked and worked and next thing I knew I wasn't half bad and I stuck with it.
Which disciplines have you trained before pursuing MMA?
I started training in 2008 and that was the first time I did anything related to Mixed Martial Arts. I never wrestled, practiced karate, not anything like that. I was a hockey player growing up. I started playing hockey when I was 4 years old and played my whole life even went and played some junior leagues and tried our for semi-pros actually.
Who has been the most influential person in your Martial Arts training and career?
Well that's easy... Joe Lauzon. He helped me to be the fighter I am today and to get where I've gotten so far. He always pushed me to be better and to train harder. I can honestly say without him I wouldn't be the fighter I am, and his instruction along with all my coaches as well has been the most influential to me.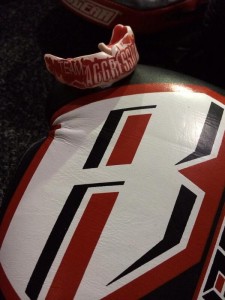 What are 5 training items that you couldn't do without?
I'd have to go with Mouth Guard, my Revgear Enforcer Gel Boxing Gloves, handwraps and you can't go wrong with the Revgear Hand Wraps with lots of sizes and colors, my Revgear Steel Thai Cup, and a trusty energy drink, haha!
What is your favorite Revgear product?
Revgear has some great stuff but if I had to pick my favorites it would be their pads. Between the Revgear Curved Contoured Focus Mitts, Revgear Curved Thai Pads and the Revgear Belly Pad. Those are great to kick and punch and great to hold when I am helping students and training partners.
What are three things anyone can do to get in shape?
Getting in shape is easy actually, you just need to be strict and stick to a good diet, get some motivation and workout daily and just get out and have fun with it all. If working out isn't fun you'll never stick to it. There are lots of activities that you can get a workout in and have fun at the same time, it doesn't always have to be the treadmill!