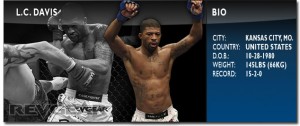 LC Davis (La Carvas Rashad Davis) - born October 28, 1980 - is an American mixed martial arts fighter. He has competed in the IFL promotion, Affliction Entertainment and is currently signed with WEC.
Davis made his MMA debut in 2006, defeating Nick Wright in VFC 12. In September 2008, Davis signed a year-long, three-fight, non-exclusive contract with Affliction, Davis made his Affliction debut on January 24, 2009 where he defeated Bao Quach.
In August 2009 Davis made his WEC debut against Javier Vasquez at WEC 42. He won a split decision over Vasquez. Davis defeated previously unbeaten Diego Nunes via unanimous decision on November 18, 2009 at WEC 44. Currently LC Davis is training for WEC 47. He is scheduled to face Deividas Taurosevičius on March 6, 2010.