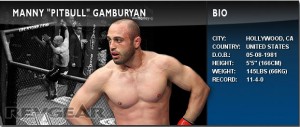 Manvel "Manny" Gamburyan is an Armenian American mixed martial artist. Gamburyan is fighting in the featherweight division of the UFC's sister promotion World Extreme Cagefighting, and is currently ranked as the #2 Featherweight mixed martial artist in the world by Sherdog.com and MMAFighting.com.
Read more about Manny Gamburyan>>>>
Manny's next fight is with José Aldo for the WEC Featherweight Championship on September 30, 2010 at WEC 51.
Watch it on Versus