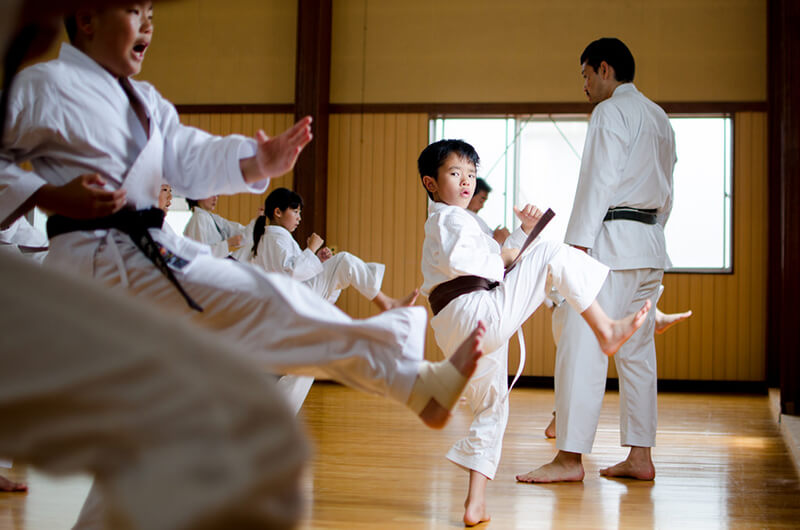 Children have a seemingly endless supply of energy. Practicing martial arts is a great way to channel that enthusiasm in a healthy, productive way. Some parents may be hesitant to enroll their children in a martial arts class, but the truth is that the best martial arts for kids focus on avoiding violence, and only engaging in physical contact when it's absolutely necessary.
So, what do the best martial arts for children have to offer? Besides instilling important self-defense techniques in your children, martial arts offer physical and mental improvements in the following areas:
Physical fitness
Self-discipline
Social skills
Confidence
Focus/concentration
Conflict resolution
Respect
Courtesy
Memory
Anger management
Coordination
Posture
Balance
Flexibility
In order to make sure that you select the best martial arts for kids, you should understand that each discipline has unique characteristics and may require different clothing or equipment. At Revgear, we take pride in designing the highest quality martial arts gear for kids so you can be confident your setting up your child for success.
Let's take a look at five of the best martial arts for children to get you started.
1. Karate
Karate is the most well-known martial arts discipline. Its popularity makes it one of the most readily available options. Karate is a fantastic starting point to introduce children to the world of martial arts. Weapons are never used in karate. Instead, students learn how to use kicks, punches, elbows, and knees to defend themselves against an opponent. In some classes, grappling and throws may also be incorporated.
Karate is one of the best martial arts for kids because it provides an excellent blend of physical and mental benefits. In karate, students compete against themselves more than their fellow students. They set goals and work hard to achieve them. The lightning-fast moves require excellent physical prowess and flexibility.
Because karate is one of the most popular martials arts disciplines in the world, you should be able to find a local class with ease. If you're ready to sign your child up for karate classes, get him or her a proper karate student uniform so they show up to class ready to learn.
2. Muay Thai or Thai Boxing
Muay Thai, also known as Thai boxing, is one of the world's fastest growing martial arts disciplines, especially among kids. Muay Thai is a combat sport that combines fists, elbows, knees, and shins – which gives the sport its nickname "the art of eight limbs."
Muay Thai has a heavy focus on body conditioning and is designed to promote a high level of physical fitness and mental toughness. It may not be for everyone, but if your child is considering Muay Thai, you'll want to make sure he or she has the right apparel, including Muay Thai shorts for kids which allow for optimal maneuverability of the legs.
3. Aikido
Aikido is a Japanese discipline, and it's one of the best martial arts for children and parents who prefer a nonviolent approach. Aikido uses maneuvers that redirect attacks back to the opponent. For example, if someone throws a punch, instead of punching back, an Aikido student would channel the attacker's own energy back to them, essentially causing the opponent to attack themself.
Aikido is an ideal choice if you want your child to work on teamwork and partnership. It's one of the gentler disciplines, and there's not as much focus on competition. Aikido teaches children how to channel their energy in positive ways. It promotes calmness and inner peace, as well as confidence. If you want your child to learn nonviolent conflict resolution techniques, aikido is one of the best martial arts for kids.
4. Krav Maga
Krav Maga is a mixed-martial art and self-defense system that combines aikido, judo, jujitsu, and boxing. Originally developed as part of the Israeli military's training regimine, Krav Maga has grown rapidly in popularity in recent years and has become one of the best martial arts for kids because of its practical application and intense workout that it provides.
At Revgear, we are known for having some of the highest quality and most popular Krav Maga gear for children and adults, including Krav Maga pants for kids and Krav Maga shorts for kids.
5. Jiu-Jitsu
Jiu-Jitsu focuses on throws, falls, and grappling moves, making it one of the best disciplines for improving balance, coordination, endurance, and speed, as well as self-confidence, trust, social skills, and self-control.
Additionally, jiu-jitsu is one of the best martial arts for kids with excessive energy. The movements provide excellent exercise, but they're also fluid and meditative. If you're considering signing your child up for jiu-jitsu, you'll want to make sure he or she has a jiu-jitsu gi for kids to set them down the right track.
Get Martial Arts Supplies at Revgear
Once you've found the best martial art for your child, getting started is easy. All you need is a uniform, belt, mouthguard – and a willingness to learn. Invest in quality gear at Revgear, and you'll find that the best martial arts for kids become much more effective and productive, producing positive long-term results.
---
Carl Turner is a personal trainer and freelance lifestyle writer from Los Angeles, California. With over 10 years of experience, he has trained many clients and has helped them to reach their personal fitness goals. During his free time, he enjoys kayaking, hiking, and reading.