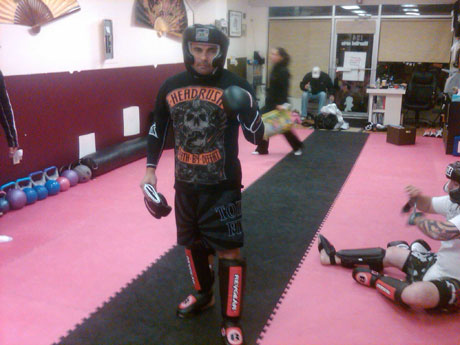 Mike Straka
is the host of FOX Fight Game, covering the world of MMA. Mike is one of the first mainstream journalists who began covering MMA at UFC 30 in 2001. Mike is a second degree
Black Belt in Tae Kwon Do
and a former wrestler. He trains kickboxing, grappling and Muay Thai. We were very proud to find out that Mike is using Revgear equipment when training.
Mike Straka about Revgear:
Revgear fight gear is the best on the market. The gel shins keep me safe with enough padding to check the best Muay Thai fighter's leg kicks, and the straps keep them right where they're supposed to be throughout the toughest sparring sessions.  But the best part about all of my Revgear, including the Bad Boy branded products, is that they last the longest. They don't fall apart after two training sessions. I've purchased the gels, gloves and helmets for all of my training partners, and everyone is happy.