Posted by Revgear on Jul 18th 2013
Guest blogger Aaron Tru shares his experience while on the road filming for Revgear:
I recently hit the road and headed north, leaving the confines of my comfort zone in Southern California and travelling to Walnut Creek just outside of San Francisco. Having successfully made the 398 mile journey to 2012 gym of the year winner Cesar Gracie's, Gracie Fighter Academy, I was excited to film with WMMA rising star Leslie Smith. The "Peace maker" as Smith is known by in the cage, was coming off 2 fight of the night performances at Invicta FC and was preparing to take on former female StrikeForce Champion Sarah Kaufman. As many people know, women train extremely hard and close to full speed while preparing for a fight. This can spell trouble if they and their partner's are not outfitted in the proper gear. Revgear wanted to make sure Smith had the proper training equipment and for me to document the experience and here is what I saw...
Along with filming product reviews that night for Revgear, Leslie was finishing up her training camp for what would be the fight of the night against Sarah Kaufman at IFC 5 a few weeks later. Having spent years filming combat sports related content, it is common to see a fighter wearing a different companies training gear or items than those of their actual sponsor. While often endorsing a company or their gear, at times a fighter will not actually use the gear during their actual training because it lacks in quality or comfort. This was definitely not the case at Gracie Fighter Academy. The first thing that I noticed was everyone covered from head to toe in Revgear clothing and equipment.
I noticed that Leslie smith was using the Revgear Deluxe MMA training gloves.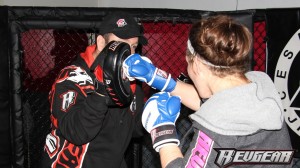 She was able to basically punch her sparring partner with full force on the ground, without giving him any cuts or unnecessary bruising to his face. Also, she was able to protect her hand due to the double padding on the glove. During a hand wrap tutorial, Leslie mentioned how important wrist support is during MMA training; she said that the wraps might as well be called wrist support because that is her main focus. While hitting mitts at full force, I saw how important the extra wrist wrapping protection on the Deluxe MMA glove were. Not only did the extra wrist support help prevent cuts and scrapes while grappling, but it really held the wrist firmly in place and gave her the comfort to train full speed. I actually felt bad for her male training partner, as I filmed Smith doing ground and pound, but he walked away with no visible bruising or cuts due to the Ram-Force Technology padding. The gloves really held up in terms of quality, protection and comfort.
The gloves are also a personal favorite of mine during practice, because I know I can give my opponent an extra punch without hurting my hand or giving him a cut. Especially during wrestling and cage drills where we fight for under hooks and work the clinch. Nothing is worse than getting burns and scrapes on your neck, arms and body from your training partner's cheap gloves, or being the one who gave someone else cuts and burns. Seeing Leslie Smith in action validated that I wasn't alone in loving these gloves and having them in my gym bag as my go to gloves.
Stay tuned as Aaron Tru shares more about his trip up North to Gracie Fighter Academy in future blogs.