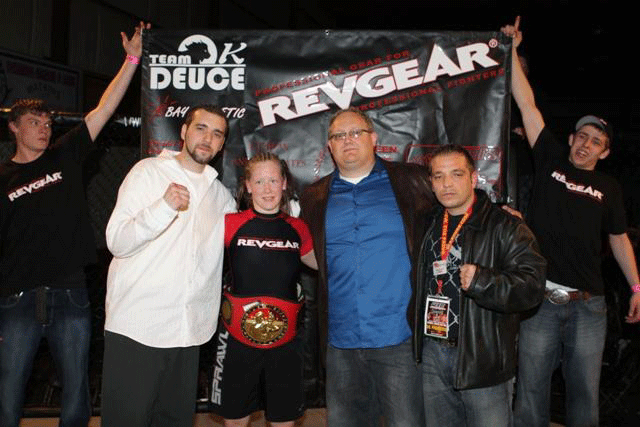 Revgear wants to congratulate Katie "Deuce Deuce" Dihle's recent success. On February, 25 Dihle won the Woman's 135-lb WXC "Warrior Extreme Cage fighting" Bantam Weight Title in Taylor, Michigan.
The match went all 3 rounds and Dihle won by unanimous decision. Katie is now the new Warrior Xtreme Cagefighting 135-lb Bantamweight Champion Title holder!
Dihle lives in Alpena, Michigan and works for Alpena Regional Medical Center. But Katie's true passion is Martial Arts. Dihle has been in Martial Arts for only a short year an a half. She says she's fortunate enough to study kickboxing, Muay Thai, Judo and other forms. MMA has become not only a hobby for Katie – it became her lifestyle.
Katie says: "Training for an upcoming event is like a force that consumes me. I eat it, breath it, when I sleep I even dream about it. It's constantly on my mind."
Dihle is now 4-0.