Ryan "ThatMMAGuy" Justason from HTRMMA.com shares his thoughts about possibility of Fedor Emelianenko fighting Dan Henderson. Fedor Emelianenko is Contemplating Fighting Dan Henderson for Strikeforce Light Heavyweight Championship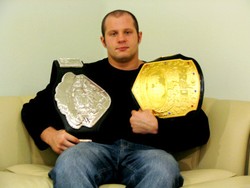 This past Monday, >Daris Brownand I talked about the interest in Fedor Emelianenko dopping down to Light Heavyweight on our radio show MMA Insight. We both argreed that it would most likely be in the former Pride Heavyweight Champions best interest. We also agreed that we didn't think Emelianenko would make the drop because in an interview before his fight against Antonio "Bigfoot" Silva, he had shared no interest. But in MMA anything is possible and Scott Coker proved that on twitter.
Speaking via his StevenMMAJunkie's Twitter, Coker said:
"There have been 'preliminary discussions only' for Hendo vs. Fedor. Wouldn't be in June/July when Hendo wants to fight next."