Posted by Revgear on Jul 5th 2013
On the brinks of his UFC debut this weekend at UFC 162, Tim Kennedy takes time out of his busy schedule to chat with Revgear. As an active member of the Green Beret's and Army Ranger's, Kennedy has been recognized for his valor under fire during his time at war. As a result of his decorated military career, Kennedy has strong opinions and feelings in regards to the United States Constitution and the freedom of speech. Additionally, Tim Kennedy discusses his upcoming UFC debut against a legend in the BJJ community, Roger Gracie. Although, a member of the world famous Gracie family, Kennedy feels he can avoid a submission and defeat Gracie via TKO or KO. Kennedy also comments on his Revgear training gear; stating that he loves the gear and uses it during his actual training. As a guest blogger and videographer for Revgear, I had the privilege of viewing a private workout, as Tim sparred 5 rounds just days before the fight. I was able to watch Tim use the Revgear Staredown Vale Tudo Shorts, Defender Gel Shin Guards, MMA Gloves and Boxing Gloves.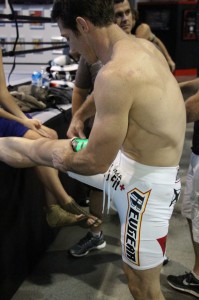 I watched live as Kennedy went full out without fear of injuring himself or his partner leading up to his UFC debut. I always enjoy seeing the top pro's in MMA using Revgear products first hand and getting their honest feedback. As usual, I was not disappointed, as Kennedy put on an incredible display of technique and athleticism, without constantly adjusting his gear, having it slip on or off, getting or giving a cut or having to stop due to an injury or equipment issue. Tim Kennedy is a great role model and ambassador for for Revgear and it was an honor to spend an evening with him at practice with his coach Greg Jackson and fellow friends from Ranger Up.