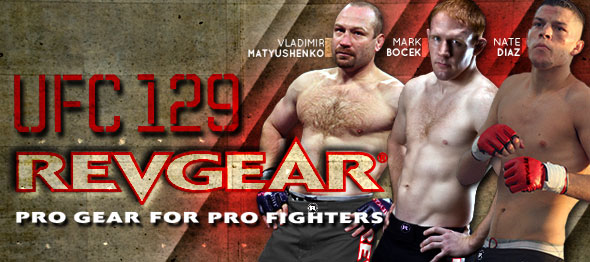 UFC 129, will be taking place April 30th at Rogers Center in Ontario, Canada. UFC 129 will certainly be a night to remember, with GSP and Shields set for a Battle Royale.  Revgear will be represented by three of its sponsored fighters including:
Nate Diaz, Mark Bocek &Vladimir Matyushenko
Bocek Vs. Henderson:
Mark Andrew Bocek (born October 24, 1981) is a Canadian mixed martial artist. He competes in the Lightweight division. Bocek is one of Canada's first Brazilian Jiu-Jitsu black belts and has been studying the art for more than a decade. he is set to face former WEC Lightweight Champion in Henderson.  Bocek is hoping to duplicate his first round submission effort against Dustin Hazelett in December.
Diaz Vs. MacDonald:
Nathan Donald Diaz (born April 16, 1985) is an American mixed martial artist, currently competing for UFC in the welterweight and lightweight divisions. He is well known as the Ultimate Fighter Season 5 champion and has amassed victories in Strikeforce, Pancrase, and the World Extreme Cagefighting promotions.  Diaz is hoping to squash UFC newcomer MacDonald's hopes of moving up in the weight class.
Matyushenko Vs. Brilz
: Vladimir Vladimirovich Matyushenko (Belorussian: Уладзімір Уладзіміравіч Мацюшэнка, born January 1, 1971) is a Belorussian mixed martial artist and the first and only International Fight League light heavyweight champion.[1] Many major MMA publications considered Matyushenko to be one of the top ranked light heavyweight fighters in the world in 2008.  Matyushenko will have his hands full with wrestling and take down specialist Brilz.
Ready to meet some MMA fighters? Want to ask questions and get signatures?  Come to Revgear's booth (#1901) at the UFC 129 Fan Expo, April 29-30  and interact with:
Brandon Schaub, Jim Miller, Ben Rothwell, Sean Sherk & Krzysztof Soszynski