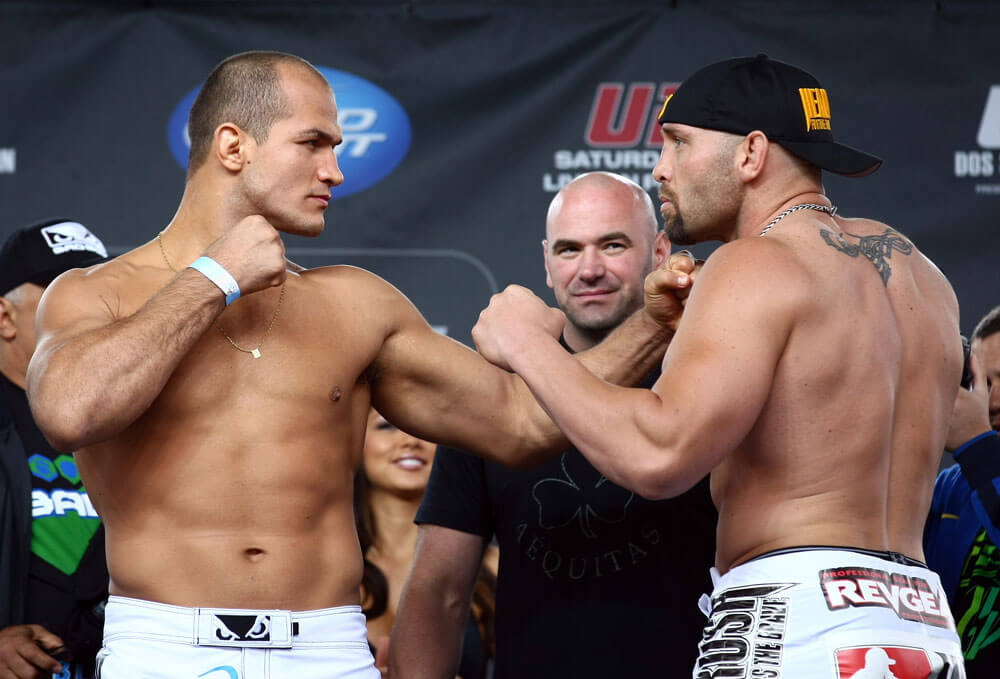 UFC 131 was filled with everything you would want from a UFC event. Controversy, knockouts, upsets, and more. UFC 131 was a big night for Revgear as well. Revgear was worn by 6 of the fighters at UFC 131. While we wish they had all won, we salute all of the fighters and the hard work they did preparing for this fight. Here is a round-up of how our fighters fared.
Shane Carwin, after an epic battle with Junior Dos Santos, lost in a unanimous decision. Dos Santos used superior boxing skills to dominate the former NCAA Division II wrestler in Carwin. In round one Carwin briefly got the better of an early exchange of punches however Dos Santos' power would soon take control of the bout. With the win, Santos maintains his number one ranking in the UFC's Heavyweight division and will face current UFC World Heavyweight champion Cain Velasquez at a site and date TBD.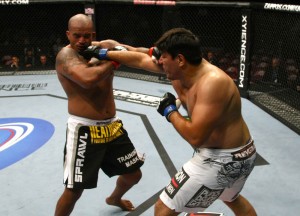 Aaron Rosa (right) was TKO'd midway though the third round against a surging Joey Beltran.
Kryzstof Sozynski (below) was able to impose his will over Mike Massenzio for the majority of their three rounds which won him a unanimous decision as well.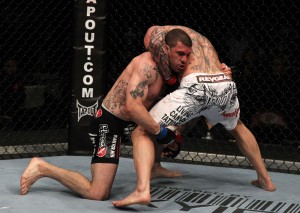 Dave Herman (below right) made a successful UFC debut at UFC 131 against Jon Olav Einemo whose first trip to the octagon resulted in disappointment. Herman claimed a 2nd round TKO victory in this exciting Heavyweight contest.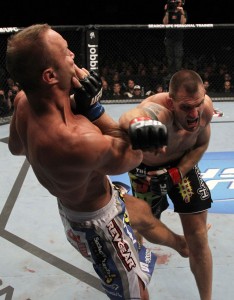 Darren Elkins' (below left) debut in the UFC's featherweight division was a successful one as he edged Japanese import Michihiro Omigawa on the scorecards, earning an unanimous decision victory (29-28, 29-28, 30-27). The win stirred much debate and skepiticism towards the judges who have received a lot of heat abut their judging of this bout as well as others.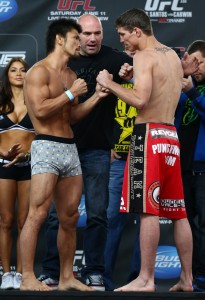 The fight was a closely contested bout from bell to bell with Elkins landing more often in the first round and Omigawa picking apart Elkins in the second with sneaky power shots. The third was a clear cut round for Omigawa as he blasted Elkins with a few choice shots from top control and landed a brutal left at one point during the round. From all indications, Omigawa was heading to a decision victory himself but the judges had other ideas.
What do you all think about the judging?
Donald "Cowboy" Cerrone (below left) easily won a unanimous decision over a completely over-matched Vagner Rocha. Cerrone's leg kicks messed up Rocha's lead leg so bad he was forced to switch stances. He could barely stand on it by the end of the fight.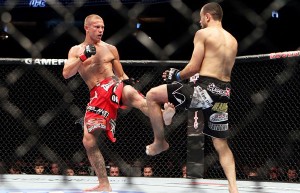 Jesse Bongfeldt (below center) was submitted by Chris Weidman with a standing guillotine choke in the 1st round of their middleweight clash. Weidman clamped on a standing guillotine with about 5 seconds to go and it looked like it was a last-ditch attempt at offense before the horn went. But it was on extremely tight, and one crank was all it took for Bongfeldt to tap at 4:57 of the first round.