Posted by Revgear on Jan 15th 2014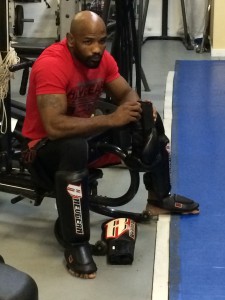 "First things first, I would like to thank Revgear for sending me my training equipment for my upcoming fight and being my official training camp sponsor. In the past I have trained with other gear and never have I felt as comfortable as I did with the Revgear products. The Revgear Enforcer Boxing Gloves felt great when I was sparring, very comfortable fit on my hands and it just felt good to be in them. They are better than any glove I have ever used before. These are my new favorite gloves for sparring.
When I started throwing my kicks the Revgear Defender Gel Shin Guards were just as comfortable as the gloves. I didn't feel the complete shock and vibrations I usually feel when I train as the guards were very resistant. My grappling and striking training was easier this time around thanks to these shin guards by Revgear. Overall my training was less painful thanks to Revgear!"
Check out the videos of Yoel below as well discussing his camp and the Revgear brand!


UFC Middleweight Yoel Romero - Revgear Fight Team (English)
UFC Middleweight Yoel Romero - Revgear Fight Team (Spanish)