Upchurch (1-1) is relatively new to MMA (since 2009) but not to fighting. He has already begun to establish himself in the 155lbs weight class, winning his first match only to let his guard down against his last opponent. Back on March 25th Upchurch was submitted by Joshua Glover and is looking for redemption in his next match. Upchurch has an MMA training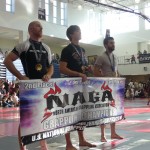 background and was born and raised in Atlanta, GA.
At 30 years of age he is a dedicated to his coaches and team mates at KnuckleUp Fitness in Sandy Springs, GA where he trains and teaches. Upchurch brings a strong background in Muay Thai having lived, trained and fought in Thailand. Continuing down the path of combat arts, he began competing regularly. Following a successful first bout, Stephen moved to Thailand to train and fight.
Over a year later, he brought his knowledge and experience back to the United States and became a part of the KnuckleUp Team Upchurch competes regularly in Brazilian Jiu Jitsu and Grappling tournaments and is dedicated to his developing and improving his ground game.
When not preparing for battle, Upchurch punches the keys on his laptop; writing articles for publications such as Fight Club Magazine and Georgia Fighters Magazine. Revgear looks forward to continuing to sponsor this up-and-coming fighter.