WEC 53: Henderson vs. Pettis airs live on Versus tonight from Glendale, Arizona. This is going to be the last event in the more than 9 years of promotion's history.
Revgear wishes luck to two Team Revgear fighters - Jamie Varner and Ricardo Lamas. Jamie Varner is fighting Shane Roller. "There's definitely some serious holes in his striking game," Varner said of Roller. "I feel that I'm a much more seasoned, technical striker than he is, especially as far as boxing goes".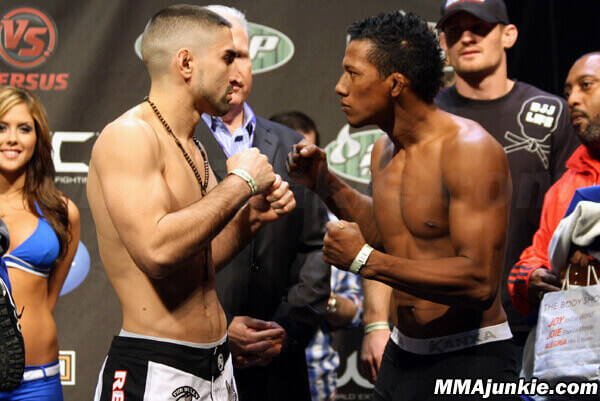 Ricardo Lamas is facing a WEC newcomer Yuri Alcantara tonight. Ricardo had 3 consecutive WEC wins, and definitely feels good about this fight (though is having bitter-sweet feelings about this being the last WEC event...)
Tonight we also wish luck to Bart Palaszewski (35-13) who goes for five-straight wins against Kamal Shalorus (Shalorus fights for the first time since a baffling split draw with Jamie Varner at WEC 49).
Good luck, guys!
The complete WEC 53 line-up includes:
MAIN CARD Champ Benson Henderson vs. Anthony Pettis (for lightweight title) Champ Dominick Cruz vs. Scott Jorgensen (for bantamweight title) Donald Cerrone vs. Chris Horodecki Bart Palaszewski vs. Kamal Shalorus PRELIMINARY CARD Danny Downes vs. Tiequan Zhang Shane Roller vs. Jamie Varner Ivan Menjivar vs. Brad Pickett Ken Stone vs. Eddie Wineland Danny Castillo vs. Will Kerr Yuri Alcantara vs. Ricardo Lamas Renan Barao vs. Chris Cariaso
Watch WEC 53 live on Versus - check Versus schedule here>>>