Are you in Los Angeles, California? You might wanna see this MMA fighting event on Saturday night. Presented by BAMMA USA and sponsored by Revgear - Badbeat MMA at the Commerce Casino on September 24, 2010. Check out the fight card and ticket info here>>>
Revgear is also proud to sponsor 2 fighters on the main card - Fernando Bettega and Craig Wilkerson who fight in 170 lbs weight division.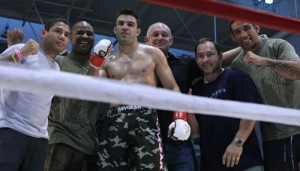 Picture: Fernando Bettega and his team.