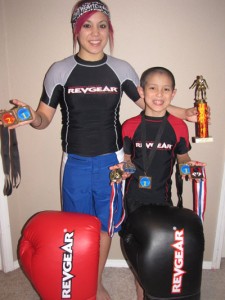 Revgear Ambassadors, Dominic and Kyra Batara continue to set the pace for Revgear Product Ambassadors, and their achievements. When we last left the Batara kids, they were kicking butt and taking names at the Gracie Kids World Championships which took place end of January during the LA Fitness Expo. Since then, they have been racking up the accolades around the country; here is a little bit of what they have been up to.
The duo attended the Sub-league Qualifier 1, in Beaverton, OR two weeks ago and both Dom and Kyra did not disappoint. Dom took 1st place in the Gi and No-Gi 50-60 lb weight class submitting all of his opponents. Kyra had a tough day with over 10 grappling matches in the Women's Absolute, Woman's Teen Advanced, and Intermediate Gi Divisions. Despite competing for over 40+ minutes Kyra took 1st in the Woman's advanced division, 2nd in Women's Absolute and 2nd in Intermediate Gi. Highlights of her day included winning the Fastest Tap trophy in the Women's division and submitting a super tough 165 lb Marine in the Women's absolute division. Keep in mind, Kyra is 4' 11" 112 lbs!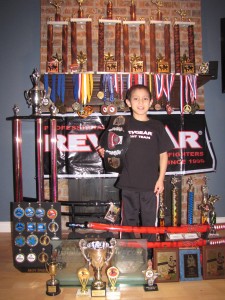 The Batara Kids compete year round, below is a list of some of their other more recent accomplishments: Reno, NV - Dom competed in his 1st National Wrestling tournament after training for just over a year in westling. He wrestled tough and placed 4th in the nation after losing to the #2 placer in his weight class. Dom continues to learn from his losses and is prepared to make a strong comeback for next year.
Scappoose Cobra Challenge, Scappoose, OR - Dom wrestled tough jumping up a weight class due to lack of competitors in his normal 50lb weight class, and took 1st in Freestyle and a tough 2nd Place in Greco. This was only his second Greco Wrestling Tournament and we're proud of how far he's come in just over a year. Twin City Three Styles Classic - Dom had two full days of wrestling and took 1st in the 50lb Folkstyle Division and another 1st place in the 50lb Greco Division.