Over the past couple months many UFC fighters had been rumored for The Ultimate Fighter 13 coaching slots. Today UFC President Dana White finally announced the coaches:  
Brock Lesnar and Junior "Cigano" Dos Santos.
TUF 13 will feature welterweights, but the contenders have not been revealed yet.  Production begins this month in Las Vegas, and the show debuts on March 13 on Spike. Brock Lesnar is a former titleholder who lost his belt to Cain Velasquez in October 2010. Bad Boy fighter Junior Dos Santos has 6-o UFC record, and was slated for a title shot, but
Cain Velasquez' shoulder injury
will keep the current UFC champ from fighting for a few months.
According to UFC
, Lesnar and Dos Santos will meet in Octagon later in 2011.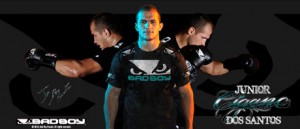 Read more on MMAJunkie