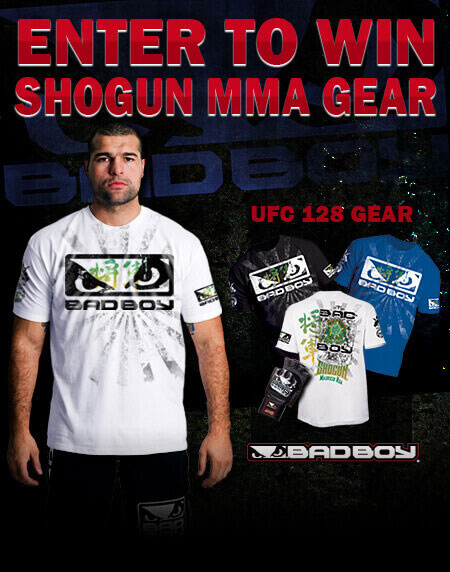 3 people will win a Shogun Autographed shirt, fight shorts OR MMA gloves!
Simply predict the outcome of the fight & send us a tweet with the answers to these three questions:
1. Who will win? – SHOGUN or JONES 2. How he'll win? – KO, TKO, Submission, or Decision 3. What round he'll win? – 1, 2, 3, 4 or 5th round Tweet must follow this form: [Who?] will win #ufc128 by a [how?] in the [round?] @revgear For example: Shogun will win #ufc128 by a TKO in the 3rd round @revgear Contest starts at 9am PST on 3/17/11 and runs through 3/19/11 at 12pm PST. All correct answers, sent in the correct form, will be entered to win. If no correct answers, winners will be picked from the closest correct answers, in order of the questions. Winners will picked at random and announced through twitter on March 21st, 2011 at 10am PST. Each winner will have their choice of one (1) of the above prizes.