KOreps.com fighter Joel Frandsen is from Grand Island, Nebraska. Currently Joel is a senior at Morningside College in Sioux City, Iowa. In May Joel is set to graduate with a degree in Psychology. Wrestling since he was a kid has led Joel to college athletics. Joel says: "College wrestling is the most difficult thing I've ever done, but I've been able to balance it with schoolwork pretty successfully. I have a 3.8 GPA, and I am an NAIA scholar athlete." Joel first got started into MMA two and a half years ago during his first semester of school. Stumbling across a local MMA gym flyer led him to give it a try just for fun. Since, he has complied a record of 17-3 as am amateur fighter, and remains undefeated as a lightweight. Fighting all over the Midwest, from shows in large auditoriums to fairgrounds with dirt floors he has been victorious in 12 of his last 13 bouts.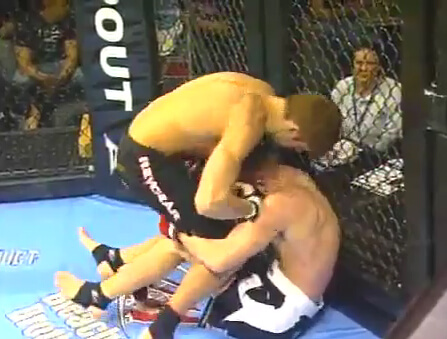 Joel knows that there is still a lot of work to be done in order to meet his goals in MMA. A specific date has not been set, but a professional career is in the very near future!
Joel's last fight was Ring of Fire 37: "Warlords" in Omaha Civic Auditorium in Omaha, NE on March 5, 2010. His opponent was Matt Williams whom Joel defeated by TKO in Round 2.