Mark Crawn
, Revgear sponsored amateur fighter, is going to make his professional debut on April 2, 2010. The fight is going to be against Stoney Hale (Team Oxendine). The fight will be within Spartan Fighting Championship in Ashland, Kentucky. Mark's MMA record is 6-3. All his six wins were first round stoppages – 5 submissions and 1 KO, his three losses were all decisions.
Mark
is
a fighter. Revgear wishes Mark luck for his first pro fight!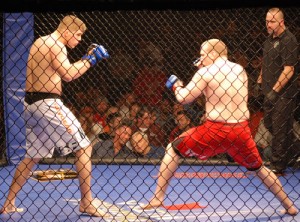 Photo: Arnold Sports Classic Amateur MMA Festival, March 5, 2010 - Mark Crawn (left) defeated Daniel Haubiel via TKO (strikes) at 1:31.
Prepared using information from The Matthew Wellington Group Agency >>>