Posted by Revgear on Aug 20th 2013

This past Saturday July 6, 2013 saw THE biggest fight card in UFC history. UFC 162 Anderson Silva vs. Chris Weidman was aired live from the MGM Grand Hotel & Casino in Las Vegas. Revgear was all over the 162 fight cards with sponsored fighters Charles Oliveira, Mike Pierce, Tim Kennedy, Brian Melancon, Cub Swanson, Rafaello Oliveira and Dave Herman.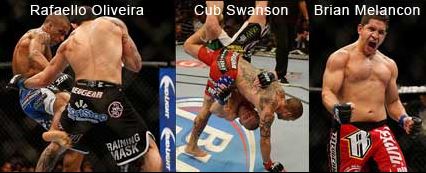 Fight Of The Night

The two came out ready to stand up and trade licks. Siver landed some great punches and definitely took more shots but Revgear's very own Cub Swanson's chin and tenacity was no match. Swanson lands consistent punches which Siver was not able to keep up with. Cub ended the fight by raining down punches on a knocked out Denis Siver. This was one fight deemed Fight of the Night.
Charles Oliveira vs. Frankie Edgar

This fight was action packed from the get go. Both fighters were in amazing shape which led to lots of quick action during the fight. Revgear sponsored fighter Charles Oliveira showed his all around skills by throwing plenty of knees, kicks and punches that landed and stunned Edgar. Edgar kept stepping forward giving shots right back to Charles. The fight came down to the last few heavy punches. A unanimous judges decision awarded the win to Frankie Edgar. The two fighters gave it there all and kept the action going which is no surprise that they received the second Fight of The Night bonuses.