Posted by Simon on Sep 22nd 2016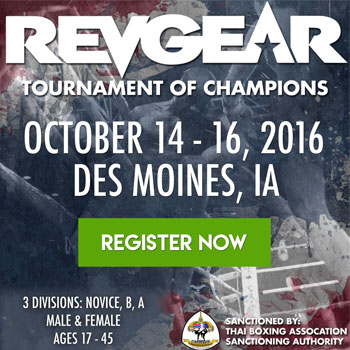 Inaugural Revgear Muay Thai Tournament Of Champions
At Revgear we are very excited to launch our latest event, Revgear Tournament of Champions. This muay thai tournament is sanctioned by the Thai Boxing Association – Sanctioning Authority and will take place October 14 – 16th, 2016 in Des Moines, IA.
The TBA-SA was established to support the art and sport of Muay Thai in the USA. Mr. Pete Peterson, the president of the TBA-SA, has over 15 years of event experience, having started promoting events in IL in 1993. Pam Peterson, TBA-SA office manager, has over 20 years of event planning experience. The other directors of the TBA-SA all are certified instructors under Ajarn Chai, and have extensive experience with running a gym, training fighters, and promoting events. The TBA-SA focuses on Muay Thai exclusively. By combining these elements, it allows the TBA-SA to host a truly professionally ran Muay Thai tournament along with sanctioning Muay Thai events with consistency.
Revgear has been a leading manufacturer of martial arts supplies, apparel, & equipment for 20 years. From heavy bags to handwraps, Muay Thai shorts to Thai boxing gloves, Revgear is immersed and familiar with the science of eight limbs.In 2015 Revgear also launched their newest signature line. Thai Destroyer, paying homage to Muay Thai and Thailand.
The TBA-SA hosts and sanctions the annual Muay Thai Classic, the largest Muay Thai tournament in North America drawing over 500 fighters from around the world.
The inaugural Revgear Tournament of Champions features 3 Divisions: Novice, Class A, & Class B and it is open to both Male & Female competitors from age 17 – 45. To learn more & register for this year's event visit the TBA Sanctioning Authority at http://www.TBASanctioning.org