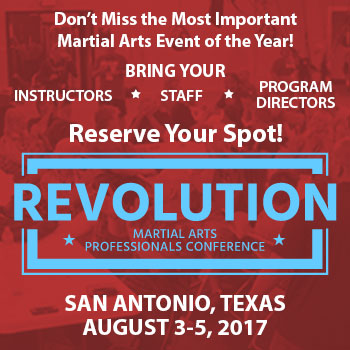 Revgear University Revolution Returns in 2017
It began as a vision for Paul Reavlin, the founder of Revgear. Paul wanted to create something new, something different, something that not only brought school owners together to learn, but to also train, and engage with each other. That vision became Revgear University and after successful international events the past 3 years Revgear is happy to announce that Revgear University Revolution will be returning to San Antonio, Texas and our host site STW Krav Maga for another exciting training and learning event.
The 2017 martial arts expo will take place the weekend of August 3rd – August 5th, 2017. You do not want to miss the most important martial arts event of the year! Owners, this is designed not only for you but also your instructors, program directors, and staff.
Past Revgear University events have featured curriculum that has never before been shared or taught along with bringing together many of the best in our industry. Names like Mark DellaGrotte, Erik Paulson, Pedro Sauer, Dave Kovar, and so many more. Business courses are combined with physical training sessions allowing you to train again, just like you did before you opened your academy.
Check out footage from past Revgear University events now then learn more & register at http://www.RevgearUniversity.com