Posted by Revgear on Jul 3rd 2013
Cage Warriors 56 will go down on the 6th of July at the Forum in London, at the top of the bill is Revgear sponsored TUF Smashes fighter Bola Omoyele who will take on Vincent del Guerra in a Welterweight fight that will see the winner get a shot at the 170lb belt.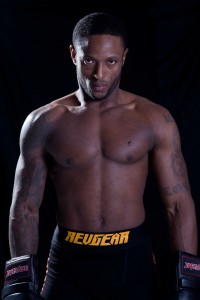 Bola "Cashflow" Omoyele (6-1) has not lost a Pro MMA fight in over 3 years (his TUF Smashes loss is classed as an exhibition bout and therefore doesn't appear on his record) and is looking to carry on his winning ways and extend his streak to 6 fights in a row at the main event of Cage Warriors 56
Standing across the cage from him will be Frenchman Vincent del Guerra, who is riding a 3 fight win streak. The fight 23 year old Marseilles native has racked up 28 since February 2009, and only 4 of the fights have gone the distance (3 wins, 1 loss) mixed with Bola's record that has seen none of his 7 fights see the judges (6 wins, 1 loss) anyone who tunes in can expect a great fight.
When Cage Warriors signed Bola CEO Graham Boylan said: "A fighter of Bola's quality deserves to be with the best show in Europe. It's a pleasure to have him on the roster and I'm extremely excited about seeing him in action for us." Saturdays fight will see him get the chance to show what he is capable of.
Revgear caught up with Bola who told us: "I've been getting my strength and conditioning to a new level at the Olympic site at Lee Valley, it's a fantastic facility and the guys have taken me to a new level." Bola has gone under an intense strength and conditioning schedule, which has included Olympic style powerlifting and sprint training. Which he has said has got him into the best shape of his life. Training at the facilities that only a year ago were filled with cheering fans and elite athletes for the London 2012 Olympics. Omoyele's has trained side by side with British athletes like Mark Findlay to get himself ready for his big Cage Warriors fight.
Coupled with his new training Bola has continued his regular training at London based Team Titan, the top UK gym has produced some of the best talent in the UK scene which has included UFC Bantamweight Brad Pickett and half of the UK Team who fought on the Ultimate Fighter UK vs Australia (TUF Smashes)
"I've had some great training in London at Team Titan and I would like to thank my management at Elite MMA who allowed me to get on with my training and my sponsors www.fightstoremma.com and Revgear who have provided me with all my training gear, the Revgear equipment is some of the best I have used and I'll be wearing Revgear shorts come fight time as they are such excellent shorts."
Bola spoke of how eager he was to get back in the ring after a recent period of inactivity: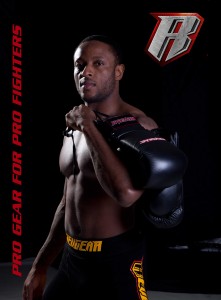 "I've been out of the ring for a lot longer than I would have liked and I can't wait to get back in the cage! My weights good and we know that he [Vincent] comes to fight, you can see that by his record, and anyone who has seen me fight before knows it's going to be entertaining , anyone who hasn't seen me can expect a great fight, I want to win the belt and this fight is my way of getting a shot."
His record shows he hasn't fought in over a year however it does not take into account his time in the Ultimate Fighter House where all he did was train solidly under Ross Pearson's team UK. Del Guerra has kept extremely busy fighting 5 times in the same time, surprisingly Del Guerra is 8 years younger than Omoyele but has 4 times as many professional fights.
Omoyele will have homefield advantage as he fights in front of his hometown fans in London, he also has big fight experience fighting a number of times on the main cards of major UK shows.
Both fighters records show, they are always looking for the finish and their exciting styles mean that this should be a great fight, all of Bola's victories have come from TKO/KO's strikes (his one submission win came when Trevor Sokonater tapped to strikes) Del Guerra has 8TKO/KO's and 9 submissions victories with only 3 fights going to the judges, whether he decides to stand and trade with the powerful striking of Bola or look to force the fight to the ground to implement his grappling will make for an exciting fight.