Posted by Revgear on Feb 6th 2014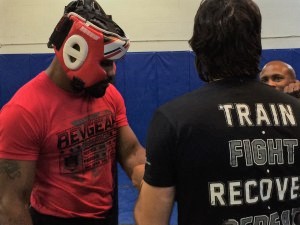 What was your first experience with Martial Arts?
The first experience I had with Martial Arts was in Germany. I received a phone call out of nowhere and they said they we are having amateur fights and one of the fighters dropped out. They wanted to ask if I would be interested in fighting. I said yes and 4 days later, without any MMA training I was there. It was a crazy, but beautiful experience.

Which disciplines have you trained before pursuing MMA?
As stated above I started with Karate when I was really young but I didn't do it that long. I would say wrestling in high school was my first step to where I am now. Aside from those two, I started training Muay Thai and BJJ at the same time when I was 18.
I have been wrestling my whole life. I competed at the 2000 Olympic Games for my home nation of Cuba and won the Silver Medal in Freestyle. I started and began my MMA training at age 33.
Who has been the most influential person in your Martial Arts training and career?
God. Everything I do is with God.
What are 5 training items that you couldn't do without?
My top item is good Shin Guards, I use Revgear Defender Gel Shin Guards and these are the best I have ever used. After that it is Boxing Gloves and I choose the Revgear Enforcer Gel Boxing Gloves in 16oz. A good Head Guard like Revgear Champion Headgear and as a wrestler I like to sweat so a good sweatshirt is in my top 5 list, I can get a good sweat and look good in the Revgear Walkout Hoodie. My fifth item is good MMA gloves, and my favorites are the Revgear MMA Training Glove because of their unique shape and extra padding, these really are the best!
What is your favorite Revgear product?
This is very difficult because I don't have one favorite they are all my favorite. I have been using all the gear I just mentioned for this training camp and I truly do love it all.
What are three things anyone can do to get in shape?
1- Have Discipline. 2- Surround yourself with a group of training partners or trainer that will push you. 3- Set Goals - You need to have a set of goals and be realistic.