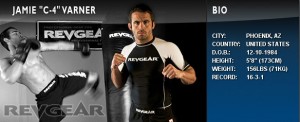 Being a world champion at the age of 24 is a feat achieved by very few athletes in any sport, even more difficult in the competitive sport of mixed martial arts. Jamie Varner is no ordinary athlete and he held the WEC championship belt for the 155lb division for almost 2 years.
More about Jamie Varner
On September 30, Jamie is fighting Donald Cerrone at WEC 51. The fight will air live on
Versus at 9PM ET/6PM PT
.
Follow Jamie on twitter>>>