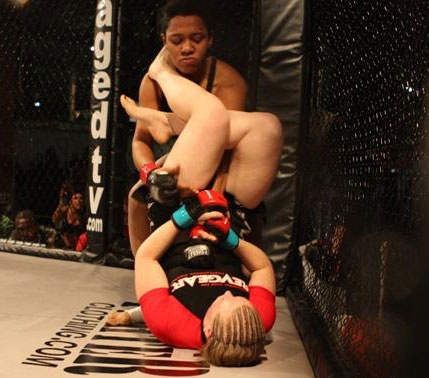 Deuce Deuce Aims for a 5-0 Mark and a New Title.
Katie "Deuce Deuce" Dihle returns to the ring on July 15th at the Northern Michigan Brown Trout Festival's Brown Trout Beat Down in Alpena, Michigan. The event is hosted by John Yeubanks and Gabriel Howard from Big Johns MMA. The event will begin at 7pm and Dihle will be going for 5-0 mark and another womens 135-lb title from Big Johns MMA.
Dihle's opponent was a gold medalist on the US National team, a 2-time goodwill games competitor, and took 2nd and silver at the us open. She has a 5-2 mark.
Dihle believes she can achieve anything she puts her heart into and she says her next opponent will literally have to rip her heart out to take her perfect record away.
Dihle is currently 4-0 and holds the woman's 135lb Title Holder for WXC and has been in MMA for 3 1/2 years and has remained flawless so far. Dihle trains twice a day, every day, switching between multiple trainers and holds a full time job at Alpena Reginal Medical Center (hospital). Dihle trains in boxing, kick boxing, Muay Thai, BJJ, as well as judo. Dihle has been a Revgear Ambassador for 2 years now and is quickly moving up the ranks.
Dihle shared with Revgear a little about her dedication to training and the difficulties of becoming the best in a very competitive sport. Dihle says her fears of getting into to the cage each time are all overcome by confidence. Not confidence that she'll win but confidence that she'll perform to the best of her ability. This confidence wasn't given to her by her MMA trainers, nor the guys she sparred with. The abundance of confidence Dihle has, she says, was given to her by her strength and conditioning coach.
The dedication Dihle put's into critiquing her form and techniques doesn't compare to the sweat she puts into the gym before a match. Dihle says she does all her performance training at Bay Athletic Club in Alpena, Mi where she meets with her amazing strength and conditioning coach Casey Stutzman three times a week in order to get herself properly prepared for her events. Her training incorporates explosive strength and power, core stability and balance with overall intense conditioning. Her workouts are always full body focused and they work on training movements not just muscles.
Dihle also does a lot of work with the TRX and kettleballs to help increase her strength and stamina. Dihle loves these tools because they really do add a unique challenge to her workouts and help's her develop the physical attributes she feels she needs to perform at her best. It is very important to Dihle to have a good balance of performance training and technical work when prepaing for a fight.
Katie would like to give a huge shout out to Casey Stutzman, her strength and conditioning coach, Alan Lacross, her boxing and kickboxing coach, and Mitch Patchkowski her judo and wrestling coach for helping her to prepare for this fight.
Katie also has several local sponsors she would like to thank:
Bay Athletic Club
Gauthier's heating and Cooling
Thunder Bay Chiropractic Center
E.J. Bean And Associates
God's Green Earth
Rocket Graphic's
And Photo's By Dihle