Mark Crawn, Revgear sponsored amateur fighter, is going to make his professional debut on April 2, 2010. The fight is going to be against Stoney Hale (Team Oxendine). The fight will be within Spartan Fighting Championship in Ashland, Kentucky.
Mark's MMA record is 6-3. All his six wins were first round stoppages – 5 submissions and 1 KO, his three losses were all decisions.
Less than a year ago Mark found out that he had testicular cancer. Mark says it was the biggest shock and scare he had ever faced in his life. He had a surgery but was back to gym only four weeks later, "training like a machine two or three times a day". Mark has to follow up with his doctor every month and now he makes monthly donations "to the little children who fight this battle every day".
Mark is a fighter. Revgear wishes Mark luck for his first pro fight!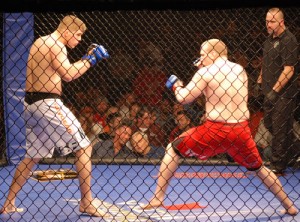 Photo: Arnold Sports Classic Amateur MMA Festival, March 5, 2010 - Mark Crawn (left) defeated Daniel Haubiel via TKO (strikes) at 1:31.