Contributing Guest Blogger Gary Edwards, Head MMA coach at Laurel Mountain MMA, North Carolina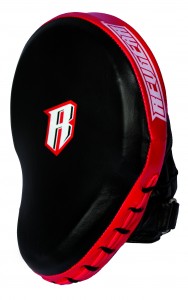 To the untrained eye, most would assume that all focus mitts serve the same purpose. It's a mitt you put over your hand to help your training partner practice a variety of punching combinations. For the most part, this is correct. But when shopping for the proper focus mitt, I like to treat it like I'm buying a pair of new shoes.
A few features I look for in a great focus mitt are the same features I love in a pair of running shoes and the new Revgear Contoured Mitt offers them all:
Weight- There is nothing worse than a mitt that becomes saturated with sweat and is made from heavy foam material. I want a lightweight mitt that doesn't wear down my shoulders. I should be able to hold mitts for multiple rounds without my arms feeling tired.
Comfort- I want the mitt to literally fit like a glove! Just like a shoe offers laces for a snug fit, this mitt has a Velcro strap to lock your hand in tight. You don't want the glove getting knocked off your hand during a training session. That takes away time from your training partner and messes up the combo they're trying to throw.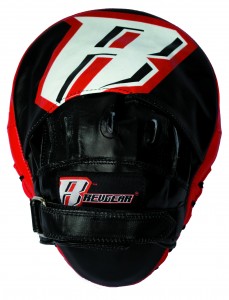 Durability- The focus mitt should be made of quality leather and have secured stitching to avoid tearing. A shoe takes a beating on concrete and dirt surfaces and the mitt will take a beating from getting smashed by punches, elbows, etc.
Protection- The Revgear mitt offers something I've never felt before in other products. There is a foam cup on the inside of the mitt that the palm of my hand literally wraps around. This is great because it helps to absorb the blows and my hands take less of a beating. It's nice to see a company looking out for the trainers as well as the students.
Overall, I give this new Revgear Focus Mitt two fists up!